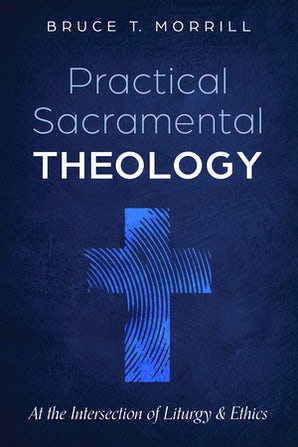 What about marriage? What about penance? What do we mean when we say we participate in the mystery of Christ? What do we mean when we say that the fundamental way to look at the Christian life is poverty in spirit?
These questions and more are answered by Jesuit Father Bruce Morrill in his new book "Practical Sacramental Theology: At the Intersection of Liturgy and Ethics," which was released by Wipf and Stock Publishers under their Cascade Academic imprint in September.
"The purpose and idea behind the book is to help readers grasp a better understanding of the integral or internal relationship between how we, the Church, do our liturgical or sacramental worship and how we live our entire lives as the worship of God," Father Morrill said. "As Christians, once we are baptized and fully incorporated into the life of Christ, our entire life is … our spiritual worship of God.
"Our liturgical worship reveals and empowers our lives as the worship of God."
Father Morrill has been a member of the Jesuits (Society of Jesus) for 39 years and was ordained to the priesthood 29 years ago. For the last 10 years, he has served as the Edward A. Malloy Chair in Roman Catholic Studies at Vanderbilt University where he is Professor of Theology in the Divinity School.
His fourth book that he solely authored, and 10th book overall, "Practical Sacramental Theology" is a compilation of eight articles he has previously written for various national and international journals and proceedings.
"I came to recognize that there was a real consistency in what I was doing across all those articles and was able to organize them and then revise them in relation to each other into a book," Father Morrill explained.
The book is separated into four parts: Theorizing Practice (the Introduction); Sacramental Rites in Performative Perspective; Liturgy and Ethics, Scripture and Tradition; and Once More, Theory and Practice (the Conclusion).
The first and last parts of the book serve as a theological framework to the middle parts, Father Morrill said.
Because of the heavy theological methodology of the introduction, Father Morrill leaves an encouraging note for readers in the book's preface: "The opening and concluding sections frame the book with its most concertedly methodological chapters, surveying and integrating theological, philosophical, and social-scientific currents that inform the concrete approaches taken in the six main chapters. Should readers find themselves bogged down in chapter one's methodological review of modern sacramental-liturgical theology, along with its constructive proposals, one could leave it aside and dig into the narrative-descriptive chapters in Part II. The bevy of issues raised in those chapters will hopefully motivate exploration of the relevant biblical-traditional resources in Part III."
The two middle sections serve as the main portion of the book, with three chapters per section. They use "narrative description to help present the idea," Father Morrill said.
"One of the degrees I did in my studies was in anthropology, so I was trained in a method that's known as description and analysis," he explained. "Basically, I describe what's going on in a clear narrative description of an issue or topic or practice. Then, one gets into analysis, and for me, it'd be theological analysis using scripture, tradition, history and theology."
Part II addresses three sacraments: marriage, the Eucharist and penance.
"In each of those chapters, I take up observations and some narrative accounts of how over the last couple decades U.S. Catholics have approached practicing these sacraments," Father Morrill explained. "There are strengths and weaknesses in how this is going on."
Part III addresses Christians' active participation in the Paschal Mystery.
"The Paschal Mystery is what characterizes all of the sacraments. That participation in mystery is what should characterize our entire Christian life by taking on the shape of the virtues and the ethics that Christ revealed as we find in the New Testament and as it develops over the centuries of Christian tradition," Father Morrill said. "The other traditional concept I address and build from … is the notion of poverty in spirit."
While the concluding chapter still contains theological methodology like the first, it also uses a narrative example of Ash Wednesday to bring all the ideas together.
"Ash Wednesday is always a time that has us reconsider and reflect on how we're living our entire lives as the worship of God as we prepare to reaffirm our baptismal faith at Easter," Father Morrill said. "Ash Wednesday sets it all in motion" as Christians prepare to share in Christ's Paschal Mystery.
Father Morrill's book is available for purchase through Wipf and Stock Publishers, Bookshop.org and Amazon. Hardcover, paperback and eBook formats are available.