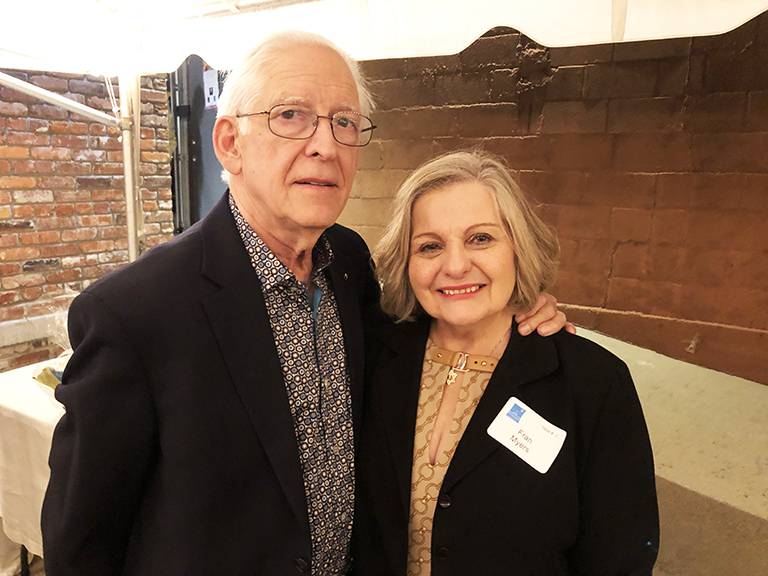 Fran Rajotte-Myers witnessed God's hand in her work for more than 20 years with the Visitation Hospital Foundation helping to build a medical clinic in Haiti.
Rajotte-Myers was the guest of honor at the Visitation Hospital Foundation's gala, "Honoring Those Who Make a Difference," on April 29 at The Filming Station in Nashville.
"Someone once asked me, 'Is God in Haiti?'" Fran Rajotte-Myers told the overflowing audience at the gala. "I responded, 'Yes, most assuredly He is there,'" and she told of many encounters that shaped her belief.
"It has been an amazing unfolding of events and I witnessed God's hand in this work every step of the way," Rajotte-Myers said. "Once you begin serving Haiti, there is no turning back. That is why I am so humbled to be honored because I feel so blessed to be a part of this ministry."
She told of the journey. After 15 years in hospital administration, she "felt a tug in my heart to do something more."
"I asked God one day, 'Please, Lord, I want to make an impact on humanity.'" Two weeks later she was drawn to a help-wanted ad and Theresa Patterson called her. "It was surely God at work. She hired me and the rest is history," Rajotte-Myers said.
Rajotte-Myers made an inaugural trip to Haiti in the summer of 2002 that deeply affected her. She spoke of seeing the poverty, hunger, and the people who walked for hours to attend Mass. "That's when it struck me – the people's great faith. … That is when I knew that God had called me to do whatever I possibly could to serve them."
Back home in Nashville in her new role a few months later, she became the guiding force of a capital campaign to build a hospital in the village of Petite Rivière de Nippes in southwest Haiti.
"It took us five years to raise the funds and send the materials to Haiti and hire a company to do the construction, but we finally opened the doors to our Visitation Clinic in January 2008 and it has remained operational these past 14 years by the grace of God and the gifts of donors like you," she told the crowd.
The clinic, which is staffed by Haitian personnel, has treated more than 300,000 people since it opened.
Patterson was among those who led this year's gala celebration. Patterson is a co-founder and executive director of the Parish Twinning Program of the Americas, VHF's parent organization. She herself has been a gala honoree and in 2021 was honored by Pope Francis for her work in Haiti.
Patterson said her hiring of Rajotte-Myers as Visitation's development director "led to 20 years of warm-hearted and amicable friendship, and most importantly, accompaniment," she told the gathering. "It meant the world to me to have someone like Fran to share a zeal and passion for the same endeavor. No one worked harder or gave more of her time and energy, or been a more loving and caring companion in this journey to bring health care to Haiti."
Demetria Kalodimos, an award-winning broadcast journalist who served as emcee for the evening, had traveled to Haiti to produce a video for Visitation Hospital, which was shown at the gala.
"When I was first approached in 2018 to produce a video for Visitation Hospital, I thought it would certainly be a worthwhile project, but I didn't realize it would be life-changing. I wasn't ready for the tremendous need we observed," she recalled of her journey to the island nation.
"What Theresa, Visitation, and all of its volunteers and donors have done in Petite Nippes is nothing short of God's work on earth," she said. "I am proud to have played even a small part in telling your story."
Rajotte-Myers said she hopes those who desire to go to Haiti will have the chance to do so one day. Once there, they may encounter the question, "Is God in Haiti?" as they encounter the poverty, sickness and hardship – and joyful praise of God – by the island's residents.
"It may seem to some that God is far off," she said, "but … where there is love, God is present."
Nashville artist Phil Ponder, who served as auctioneer for the gala, was among those singled out for special thanks for his years of support of Visitation's activities, along with his wife, Dot.
Gala organizers also remembered Ronald Lee DeMoor, known professionally as Johnny Counterfeit, who was scheduled to perform at the gala but died a couple of weeks before the event. The Wilson County resident's ability to impersonate more than 150 celebrities and cartoon characters was remembered in a brief tribute video.