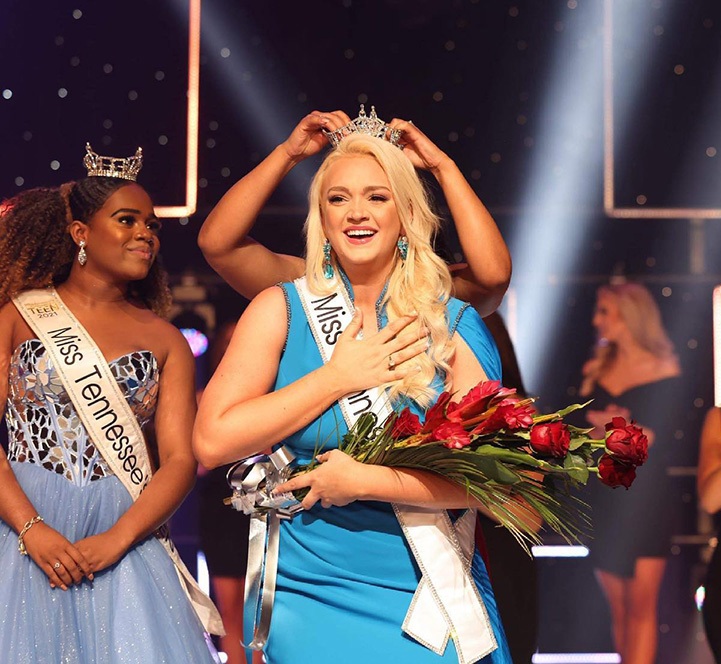 Earlier this summer, a former Knight was crowned royalty.
Tally Bevis, a 2015 graduate of Pope John Paul II Preparatory School, was named Miss Tennessee 2021 and will go on to represent the Volunteer State in the Miss America Scholarship Competition in December.
Bevis will be competing in the centennial year of the competition, which is an accomplishment she holds especially dear.
"I was kind of thinking I would keep it together, but I lost it when they announced that I was competing in the centennial year," Bevis said. "I'm a nostalgic person by nature."
Along with the title, Bevis won more than $17,000 in scholarship money, bringing her total winnings to more than $25,000 earned from the Miss America Program, which is the largest scholarship provider for women in the nation.
Bevis first began competing in scholarship competitions six years ago while studying business administration at Belmont University in Nashville.
A local director of the competitions approached her in a nail salon and asked if she'd ever competed before.
"I'm a tomboy, I never even wore a dress until I was 15," Bevis said. "I decided I would try it, and it was cool but not for me."
After taking some time away after that first experience, she returned in 2018 to compete in the Miss Tennessee competition as the Miss Parsons local title holder. She returned to the state competition in the following year as Miss Music Row, where she finished as the fourth runner up.
On July 3, she finally broke through in her third year of the competition, earning her spot as the first Miss Tennessee from Robertson County.
When considering what made the difference this time around, Bevis said she had to learn to fill the role of Miss Tennessee before she ever earned it.
"This competition is a subjective sport. We don't earn a certain amount of points. Any of the five finalists are equipped to do the job, and the judges have to make a subjective decision about what sets you apart," Bevis said. "I've had six years of preparation trying to work as that person before ever being given the title, and now it's about can I step into a role I feel like I've already been filling."
One month into her position, Bevis is preparing for the Miss America Competition to be held in December. The event will be nationally televised from the Mohegan Sun Casino in Uncasville, Connecticut.
She is making sure to take it all in, both the pressure and the excitement, in the time leading up to the competition. "I like to say that you can't lose Miss America, you can only earn it. All the competitors have already achieved so much. It's more likely to have a son in the Super Bowl than a daughter in Miss America."
Following the national competition, Bevis will focus her efforts on her local social impact initiative, Vote with a Vision.
Vote with a Vision is a Tennessee registered non-profit that she founded that assists in voter registration and civic literacy for youth.
"As the daughter of a lawyer and someone that participated in student councils growing up, my passion was always government related," Bevis said. "Nowadays, people can get disenfranchised really easily. This organization helps to be proactive in building voting habits."
Vote with a Vision is affiliated with the Secretary of State and GoVoteTN, and they will be working hard to facilitate voter registration drives for the upcoming 2022 midterm elections.
"Voting is a constitutional right," she said, "and we hope to help Tennessee lead the charge in protecting that right."