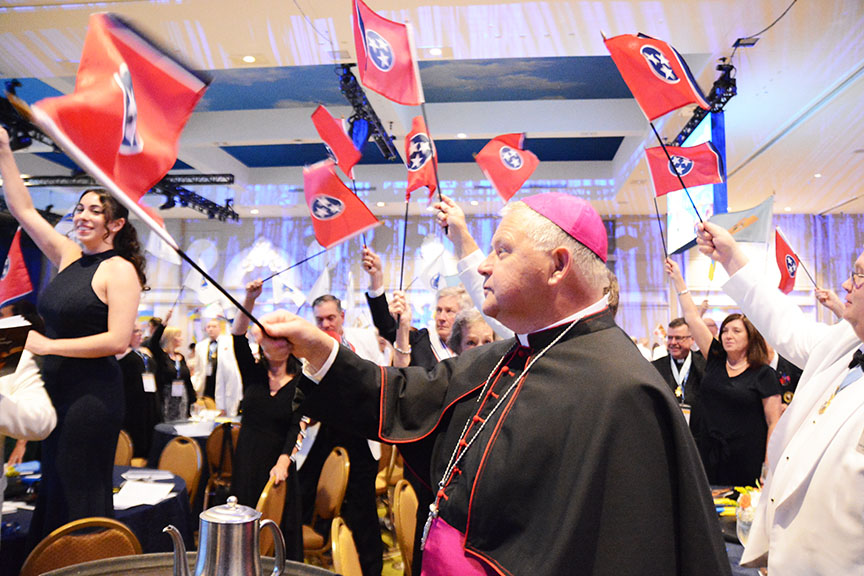 Knights of Columbus and their families from around the world gathered at the Opryland Resort and Convention Center in Nashville for the order's 140th Supreme Convention.
Among those on hand were a host of cardinals, bishops and priests. The convention featured impressive liturgies, speeches by luminaries of the Catholic Church in America, and a lot of fun.
The Knights, with more than 2 million members across the globe, is the largest Catholic fraternal, service organization in the world. It was the third time Tennessee has hosted the Supreme Convention, following the 1941 convention in Memphis and the 2007 convention in Nashville.
Staffers from the Tennessee Register captured some of the activities during the convention, which was held Aug. 2-4. Check out all our coverage of the events and a complete photo gallery below.
Articles
Bishop Spalding celebrates Mass to kick-off Supreme Convention
Knights attend welcoming concert at Grand Ole Opry [Photo Gallery]
Pope Prep grad performs with band at Opry concert
Cardinal Dolan: 'Our country prospers when in God we trust'
Overturning of Roe 'a chance to win the fight for life'
Knights of Columbus present awards to top members, councils
Ukrainian Knight honored for leading war relief efforts
Tennessee welcomes Knights from around the world
Knights of Columbus participate in Adoration at Supreme Convention
Gallery
Photos by Andy Telli, Katie Peterson, and Rick Musacchio.